FOUNDATIONS
NORTHWEST CHRISTIAN PRESCHOOL
---
Educators and parents alike know a solid foundation is the best way to prepare children for their future. Northwest Christian Preschool (NCP), an independent, non-denominational preschool, partners with parents to introduce Christian core values and morals while inspiring spiritual, physical, intellectual, social, and emotional growth. The goal of our staff is to prepare your child for a smooth transition to kindergarten.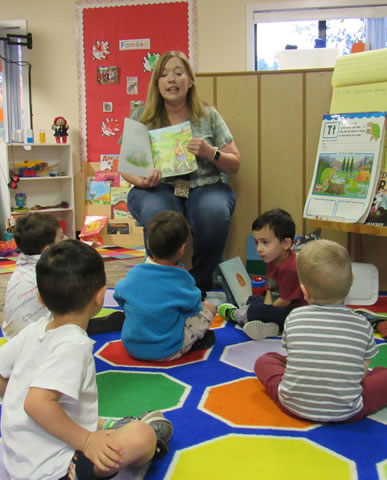 PHILOSOPHY
We believe in focusing on the individual needs of every child and respecting, recognizing, and celebrating their desires. All children should feel safe and secure in their learning environment.
We teach our students to be higher-level thinkers, polite and respectful learners, and overall good stewards to their school and community.
The "whole child" is ministered through our daily program in a variety of ways. Activities are led in creative and fun ways that encourages children's interest and involvement. We do this through a multitude of learning activities such as music, stories, science, cooking, physical and hands-on activities, games, and arts and crafts.
The following overview provides guidelines/goals for six basic areas of development that we focus on in our daily program activities.
Spiritual — Bible Stories, memory verses from Scripture, object lessons, Christian songs, and prayer are taught daily. We encourage children to practically apply these lessons to their daily lives and interactions with others. We model Christ-like behavior and love to one another.
Physical Development — Activities for growth and development of small and large muscle coordination using a variety of games, exercise movements, and materials and spaces on our beautiful large campus.
Intellectual — Thinking skills, number/letter meaning and recognition are presented to encourage intellectual curiosity and application of knowledge through "firsthand" discovery experiences.
Social — Participation in group activities and class "belonging" and responsibility is presented actively in stories, role-plays, group activities, and modeling by teachers. Understanding of rules, sharing of space and resources, and conflict resolution lessons are taught daily.
Moral — Values such as truth, respect for others, politeness, kindness, respect for God's world are reinforced in all work and play situations.
Emotional — Self-esteem and a feeling of security are built by providing care, love, consistency, and a safe, calm atmosphere.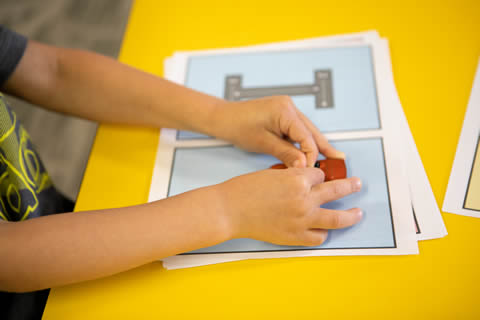 CURRICULUM
Northwest Christian Preschool uses Pinnacle Curriculum, a faith-based curriculum. Based on the works of Piaget, Gardner, and Erikson, Pinnacle® provides early childhood educators with lessons that engage children in developmentally appropriate activities.
Pinnacle is based on the following beliefs about children, learning and teaching:
Each child is an individual. Because children grow, develop, and learn at different rates and in different ways, it is the teacher's goal to discover each child's special abilities through careful observation and interaction, developing an individualized education plan that guides them to their potential.
The learning environment should be filled with a variety of enrichments, materials, and equipment that appeal to the children's varying interests. Careful consideration is given to how each child responds to his or her environment physically, cognitively, socially, emotionally, and spiritually. Through an individualized approach to curriculum planning, children are encouraged to explore the environment at their own pace.
The teacher's role in the classroom is to guide and facilitate learning, always balancing teacher-directed activities with child-initiated experiences and planned experiences with those guided by the children's interests. Teachers actively participate in the child's self- discovery by asking open-ended questions that encourage children to think independently.
Learning is an active process and children learn best through exploring, creating, thinking, and problem solving. Sufficient time must be given for children to make choices, engage in activities, and/or to use materials and resources.
When teachers build upon what children already know and challenge them with tasks at a level appropriate to their skill development, they promote a continued interest in learning.
All early educational experiences should build self-esteem in young children. A learning environment that is nurturing, encouraging, and allows children to grow confident and independent, helps contribute to the sense of security needed for children to enter the larger community with healthy self-esteem.
Parents are partners in the educational process and need many opportunities to be actively involved in the preschool program. Teachers should encourage and foster parent-child relationships and solicit parental involvement in various aspects of programming, such as curriculum planning, information about family traditions and culture, and fund-raising.
Pinnacle Curriculum provides a theme-based framework for learning and covers all of the developmental domains (physical, social/emotional, language, cognitive, and moral). Monthly and weekly themes capture students' interest and engage them as learners. Each day, your children will participate in both self-initiated and teacher directed enrichment activities, ensuring concept absorption while accommodating children's varied learning styles. Daily theme related activities include art/music, reading, physical fitness, science/sensory exploration, and character education. The Pinnacle Curriculum incorporates the development of fundamental skills including math and literacy readiness, following directions, visual memory, dramatic play, problem solving, and self- help.
Learning Objects for Pinnacle Curriculum include:
Social and Interpersonal Objectives – includes learning listening skills, sharing, playing fairly, compromise, respect, and more.
Logical and Mathematical Objectives – includes counting from 1-30, comparisons, basic number concepts, pattern recognition, and understanding spatial concepts: first, middle, last, front, back, up, down, over, under, through, in and out, and more.
Language and Emerging Literacy Objectives – includes learning to follow directions, write a first name, tell a story in a sequence, rhyming skills, building vocabulary, recognizing the names and sounds of consonants and short vowels, forming consonants and vowels in upper and lower case, and building vocabulary skills including color, words, shapes, weather, seasons, holidays, manners, friendships, community helpers, family traditions, health and safety, animals, farming, science, and mathematical, and more.
Gross Motor Skills – includes learning to catch small objects, throw an object in the intended direction, running with control, climbing without falling, reproducing rhythmic patterns, and more.
Fine Motor Skills – includes learning to use scissors on lines and shapes, using a crayon in a defined area, creativity with art media, using writing and drawing tools with control, and holding a pencil correctly, and more.
Christian Objectives – includes learning who God is, who Jesus is, learning to pray, sing Christian songs, knowing that God loves them, and more.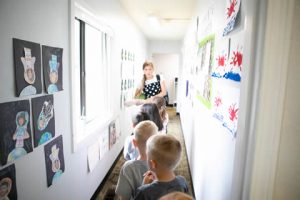 FACILITIES
Northwest Christian Preschool is nestled in a quiet, peaceful, retreat-like setting surrounded by trees. Our campus is rich with nature. A security system allows only parents and staff with an assigned card to enter. An assigned security card is required to access the preschool building. Children are released only to parents and authorized individuals listed on the child's records. Positive photo identification is required.
Our six individual classrooms provide a peaceful, child friendly environment. Each classroom is equipped with a bathroom and hand-washing sink.
Our campus is also rich with resources offering:
A well-supplied library to build children's literacy and socialization skills
A covered play area and gym which allows children to engage in active play even if the weather is inclement
A chapel for weekly worship times and programs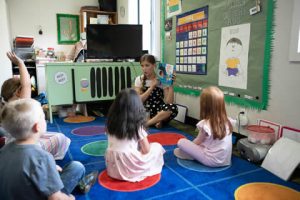 TEACHER QUALIFICATIONS
The teachers and assistants of Northwest Christian Preschool are experienced, qualified, and dedicated to the needs of your child. All applicants must have a strong desire to work with young children and be committed to the goals of the school. Our teachers are mature, well-trained, and loving. The State of Washington requires all individuals working with young children to obtain basic training in child development and education, have CPR/first aid training, and have a cleared background check. Our teachers minimally meet those requirements and, in many cases, exceed them. Ongoing training provides our teachers with additional tools to nurture and teach children.
DISCIPLINE POLICY
It is very important for children's school and life success to learn and practice appropriate behaviors. Our goal is to teach children to:
Make appropriate behavioral choices
Understand there are consequences for behavior choices
Experience the rewards that come from making appropriate choices
A detailed description of our Discipline Policy and methods of guiding children can be obtained from the preschool director. At no time will corporal punishment (which is prohibited both by law, and our policy) be used. At no time will a child be belittled or intentionally humiliated.